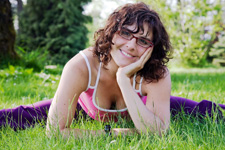 Dear Open Door Yoga Family,
I am taking a Leave of Absence from teaching yoga. I am off to pursue other paths and spend time on my yoga practice. It has been a pleasure and an honour learning, sharing and growing as both a teacher and student of Open Door. Please continue to step onto the mat to be both nourished as well as inspired by the wonderful teachers at ODY. If you need to send me a message, please refer to my website. www.charlottejurasyoga.com It is my hope to return in January 2018. In love and light! Charlotte
Yoga teaches me that happiness is always within. There is a definite transformation that arises when I am plugged in to my practice. But it takes practice, patience and courage. On the mat, I have been a dancer and a warrior, an innocent child, an old lady and a listener, as I invite the prana embrace me. When I am on the mat I dance as the prana flows through my body enabling helps me find an anchor. I am a graduate from Prana Yoga and Zen Center, and have over 500 hours training in hatha, ashtanga, vinyasa flow and yoga therapy. In my classes, I try to cultivate the value of listening to the inate wisdom and finding the path the leads you to your best. I believe in practicing from the heart, laughing, trail & error, falling over, and keeping your mind open to change. I warmly thank and appreciate my teachers, Shiva Rea, Gioia Irwin, Fiona Stang and Christine Price-Clark. See you on the mat!
What is your practice like these days?
I have a set practice time every day, the same time. It becomes part of my routine. It isn't always a full 1.5 hours some days it is only 30 mins, some days is a powerful flowing practice other days it is full out yin, but I pour my attention into that time, and nothing else matters.