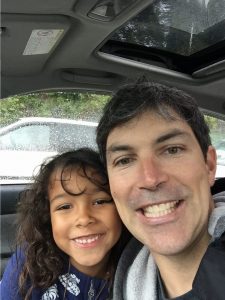 From the very first class I took (almost 25 years ago now!) my favourite pose was Savasana (complete relaxation aka Corpse Pose)! I attended classes the Sivananda Yoga Vedanta Center in Montreal and I loved it. Yoga stayed with me through some very turbulent, unhealthy times. I believe yoga is an everyday experience we intuitively know and a recognition of something we've known all along-we are at our best when we are responding to our genuine human longing rather than to clinging (raga) and aversion (dvesha).
I live in East Vancouver with the love of my life Stella and our daughter Mahalia Ocean. When I'm not on the mat I have spent singing in local choirs such as Simple Gifts (link: http://www.simplegiftschoir.ca/) & City Soul Choir or playing bluegrass, folk and originals in Uncle Joe. Singing is the best pranayama!
I teach hatha and power classes at Open Door Yoga & chair yoga to seniors at the Richmond Kinsmen Adult Day Center. I am also the studio coordinator at our Main & 15th location.
What can you expect from my class:
A mix of pranayama (breathing exercises), vinyasa (sequences of physical movements), chanting and yoga philosophy.
I think the essential learning in power and hatha yoga is the same-our true nature revealed one breath at a time-so you can expect to breathe deeply, be challenged, and relieved in all my classes. Expect to sweat a little in my power class.
These days my own practice consists mostly of Sivananda Yoga so I bring elements of that to each class I teach. I also love Open Door Yoga teachers Hogan, Georgina, Lana, Jennifer, Joan and Troy's teachings.
Her is the Sanskrit transliteration of a chant I often recite at the end of my classes and my favourite translation:
Om Bhur Bhuvaha Suvaha
Tat Savitur Varenyam
Bhargo Devasya Dhimahi
Dhiyo Yo Naha Prachodayat

Everything on the earth in between and above is arising from one effulgent source. May this practice remind me of this complete understanding of unity so that I may be the peace I am seeking in every moment.
Gayatri Mantra translated by Donna Farhi
Connect with me on Facebook.