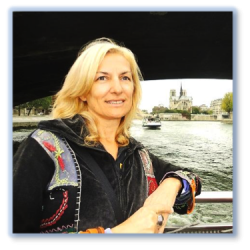 Vesna is on a leave of absence until July 2018
Vesna has been a student of yoga for over 20 years and a student of Theravada and Merkaba meditation for many years. As a yoga teacher, since 1999, she is comfortable and skilled to teach from slow, relaxing and restorative classes to power and vinjasa based classes, calling on the knowledge of anatomy and alignment to help students cultivate grounding, strength and balance in their yoga practice. The enthusiasm, experience and love of yoga are obvious the moment Vesna starts her class.
Vesna is an Integrative Energy Healing Practitioner, able to offer therapeutic approaches to restore and heal the body and calm the mind using the ancient teachings and experience of integrative energy healing practice. Currently she is accepting clients in her own studio in Vancouver who are looking for a gentle and holistic method to co-create healing in their physical, mental, emotional and spiritual bodies.