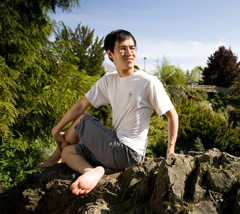 Co-owner of the OpenDoor, Hogan is a caring and gentle teacher. Often asking students to "listen to their body", he understands that yoga is not simply exercise but an opportunity to find balance, re-charge, and rejuvenate in these stressful times.
"We can learn a lot about oneself in yoga. The way we approach a class, a challenging pose, etc… can also be patterns in how we encounter life and stress.
We can only change with awareness. Awareness of our body leads to changes that affect us physically, emotionally, mentally and spiritually. This is why a yoga practice of awareness can change our lives."
What can you expect from my class?
-Expect an intention to have a 'home practice' as the intention of all teachers is not just for one to practice yoga when you come to class but to be able to learn things in class that you can practice on your own. This means that I have planned my classes so that each week will have a lot of what was taught in the past knowing that we all 'learn with repetition' but that we will also be adding something different each week so that it isn't the same, the student still needs to 'stay present'.
-As co-director of the teacher training program, the bonus of attending my classes from Oct-June is that I will incorporate a lot of the poses and breathing exercises taught in the teacher training coinciding with the teaching of them in the course which I believe will be a wonderful bonus for students not in the program but also for the students in the program so come to my class if you are interested or curious about the 'life changing' teacher training program!
-Based on each person's body and energy levels, the class can seem anywhere from gentle to vigorous but the message is always to 'listen to your intention for coming to class' and to let that guide you throughout for I definitely welcome students to come out of a pose if needed, stay longer in a pose, do something different than what I am guiding for doing so in class will help one develop 'their home practice', help one learn to connect to their body, themselves…..what we all need to practice!